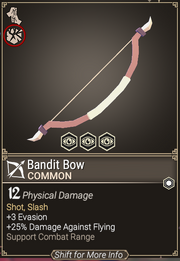 Description
[
]
Armaments come in all shapes, sizes and types but a lack of skill can result in catastrophic failure, leaving your best weapon in splinters.
"Breakable" in For The King is indicated by a shattered icon on an item card (see right, circled in red). These items have a chance to break in combat based on the character's tested weapon stat. For example, the Bandit Bow rolls (3) Awareness in combat and if all (3) rolls fail when using a skill in combat then the item will break.

Also see page breakable weapons.