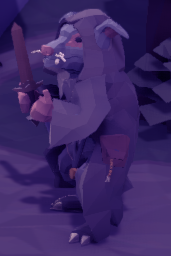 Description
[
]
Cutpurses are hooded rat men armed with daggers. They try to kill you, take your stuff, and run away.
Spawning
[
]
Can spawn in The Guardian Forest in act 1 at night.
Combat
[
]
Level 1 (Apprentice): 14 HP
No Armor, Resistance, or immunities.
They are quite fast and fairly evasive.
Abilities
[
]
Stab: Deals damage.
Steal: Steals gold or items from the target. After using this, cutpurses will usually try to flee immediately. If you kill the cutpurse, the stolen stuff will be returned to you.
Flee: The cutpurse leaves the battle, taking any stolen items with it.
Possible Rewards
[
]
10 Gold