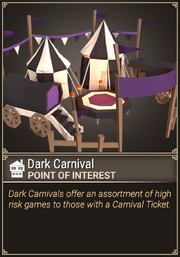 "Masked storytellers on stilts stalk around a bonfire, while filthy clowns tempt you to bawdy shows and games of chance."
"Time was, villagers with pitchforks and torches would run this sort of nonsense out of town. Times have changed."
Once unlocked in The Lore Store, dark carnivals will spawn randomly around Fahrul. If a character with a Carnival Ticket enters a hex with a dark carnival, they will be given the chance to play a variety of luck-based carnival games.
Note: A Carnival Ticket when sold to a market after all town refreshes have occurred (on Master Difficulty) sells for $264. Consider the value of selling a ticket vs. the rewards for using one.
Games
[
]
Game
# of Success Rolls
Effect
At 55% Luck
At 90% Luck
At 95% Luck
Chaos Carousel
0
Max Chaos
(4%)
(0%)
1
+2 Chaos
(20%)
(0%)
2
+1 Chaos
(37%)
(5%)
3
-1 Chaos
(30%)
(29%)
4
-2 Chaos
(9%)
(66%)
Haunted House
0
Lose All XP
(2%)
(0%)
1
Lose All Gold
(11%)
(0%)
2
Lose All Focus
(28%)
(1%)
3
Regain All Focus
(34%)
(7%)
4
+120 Gold
(21%)
(33%)
5
Next Level
(5%)
(59%)
Wheel of Death
0
Party Death
(0%)
(0%)
1
Death
(0%)
(0%)
2
Death
(5%)
(1%)
3
+1 Life Pool
(29%)
(17%)
4
+2 Life Pool
(66%)
(81%)
Funhouse
0
Death
(0%)
(0%)
1
Party Curse
(0%)
(0%)
2
+200-240 Gold
(5%)
(1%)
3
Gain Item
(29%)
(17%)
4
Full Party Restore
(66%)
(81%)
Mystery Box
0
Death
(2%)
(0%)
(0%)
1
15 damage to party
(11%)
(0%)
(0%)
2
Lose All Gold or Lose All XP
(28%)
(1%)
(0%)
3
+ Gold
(34%)
(7%)
(2%)
4
Next level or +1 Life Pool or ?
(21%)
(33%)
(20%)
5
Random : -1 Chaos or Full Party Heal or Full Party restore
(5%)
(59%)
(77%)
House of Mirrors
0
Fight
(0%)
1
+2 Skip Turns
(0%)
2
Gain Item
(5%)
3
Treasure Chest
(29%)
4
+300 Gold
(66%)