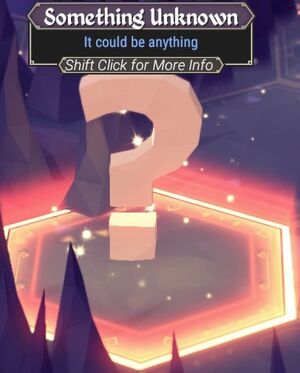 Description
[
]
An Encounter in For The King is a chance-based event that can randomly appear on a hex during a campaign. There are many types of encounters, from dark, mysterious caverns to unexpected, life threatening traps! You see a treasure chest, but is it really safe to open?
Triggering Encounters
[
]
While most encounters won't appear until a character moves onto an appropriate hex, others will appear on their own (often indicated with either a large exclamation mark or a question mark that hovers above a hex). Most encounters are persistent and can be safely exited and attempted at a later time, however, some are completely unavoidable and must be played through by whichever party member triggered the challenge. Additionally, some encounters will despawn immediately if a character exits without attempting the challenge.
Challenges
[
]
Once triggered, characters will be required to meet specific stat checks in exchange for a desired outcome. Oftentimes, succeeding in an encounter means special rewards, such as rare items, temporary buffs, or permanent boosts to base stats. Failed challenges will result in damage, status debuffs such as Poisoned, and sometimes even death! There are also negative encounters designed specifically to hurt or slow characters, whether a successful stat check is made or not.
List of Encounters
[
]
Additional Notes
[
]
Bad weather will increase the chance of a negative encounter.