Fahrul Mule is one of the Potions and Consumables in For The King.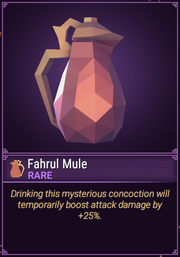 Description
[
]
Fahrul Mule is a rare Potion that when used, temporarily boosts the user's attack by 25%.
Effect
[
]
User is buffed with Attack Up, like the ability "Fortissimo".
Acquired
[
]
The Woodcutter starts with this in their inventory.
Trivia
[
]