For The King is a procedural turn-based RPG that features solo and cooperative (and uncooperative!) play. Featuring a blend of roguelike, boardgame, and JRPG combat mechanics, For The King has a unique feel and aesthetic. Players must survive cunning enemies and creatures, wicked weather and brutal traps in their quest to solve the mysterious death of the king and bring order to the land.
Description
[
]
"Answer the call!"

—game tagline
The King is dead, murdered by an unknown assailant. Now the once peaceful kingdom of Fahrul is in chaos.
With nowhere left to turn and stretched beyond her means, the queen has put out a desperate plea to the citizens of the land to rise up and help stem the tide of impending doom. Set off with your make-shift party, either single player, local, or online co-op. Choose to split your party up and cover more ground, or stick together for protection. A sound strategy can mean the difference between life and death.
For The King is a challenging blend of Strategy, JRPG Combat, and Roguelike elements. Each play through is made unique with procedural maps, quests, and events. Brave the relentless elements, fight the wicked creatures, sail the seas and delve into the dark underworld. None before you have returned from their journey. Will you be the one to put an end to the Chaos?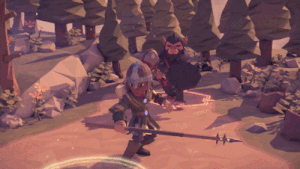 Fight and die as a party in fast paced and brutal turn-based combat using a unique slot system for attacks and special abilities. Find and gather herbs for your trusty pipe to heal your wounds and cure your maladies. Set up safe camps or brave the horrors that nightfall brings.
Just remember adventurer, you do this not for the riches or fame but for your village, for your realm, For The King!
History
[
]
For The King raised over $130,000 in its successful Kickstarter campaign during the summer of 2015. Initially designed as a boardgame created by Lead Designer Colby Young, For The King retains the strategic boardgame vibe while adding procedural worlds, JRPG combat, and roguelike elements. For The King entered into Early Access on Steam in February 2017 with a full commerical launch for PC/Mac/Linux in April 2018. All 3 console versions were released in early May 2019.
Features
[
]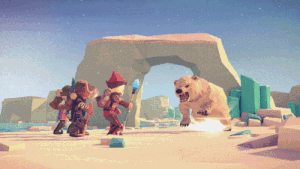 Solo or Online Co-op - Control your own party or play with up to 3 people online. Travel and fight together or dare to set off on your own.
Challenging Roguelike Adventure - A highly re-playable, unforgiving adventure designed to keep you guessing and on the edge of your seat.
Turn Based Combat - A classic battle style with a unique slot and proficiency system. Choose your attack type, spend focus points, use items, and activate special abilities to defeat your foes.
Living World - New challenges and horrors emerge at different times of day. Encounter weather and natural events that have a variety of effects, both good and bad.
Procedurally Crafted Map - The map, realms, and locations you encounter are different every play through. A unique set of fascinating locations will force you to adapt your play style every game.
Persistent Lore - Collect lore and spend it at the town libraries to build a unique game experience. Unlock persistent game mechanics in the order of your choosing.
Dungeons - Unique dungeons will require new strategies every time you play. Encounter deadly traps, enemies, and legendary treasure in unexpected ways.
Persistent Weapon Crafting - Collect unusual resources and rare weapon recipes to craft powerful weapons over multiple playthroughs.
Item, trinkets, curiosities - Find many different objects and items to use along the way. Some helpful and some come with a cost...
Downloadable content
[
]
Lost Civilization adventure pack
[
]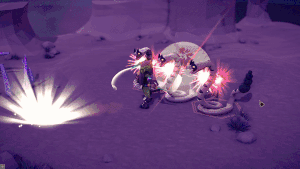 Explore the mysterious Jungle Falls and uncover the secrets of an ancient civilization in this thrilling adventure pack. Includes the new jungle realm, arena battles, wands and dual wielding, two new playable characters, and tons of unique enemies and loot.
The Lost Civilization Adventure Pack was released in February 2021.
Cyclops cosmetic pack
[
]
The Astronomer has bent spacetime and peered deep into the future. Now, Queen Rosomon has commissioned Fahrul's top blacksmith to faithfully recreate his visions...
Celebrate the release of action-shooter RPG The Ascent with this free Cyclops Armor, a brand new cosmetic armor set available now in the Lore Store.
The Cyclops Cosmetic Pack was released in May 2021.
Ninja cosmetic pack
[
]
The secretive ninja clans of Fahrul are a far cry from the sorts of adventurers Queen Rosomon usually recruits. But in these desperate times, she is more than willing to pay for their expertise in espionage, deception, and lethal surprise attacks!
Become the shadows and strike down the enemies of Fahrul with this free Ninja Cosmetic Pack, available to download now!
The Ninja Cosmetic Pack was released in August 2021.
Goblin cosmetic pack
[
]
"Wherever there is coin, there are Goblins!"

—Famous Fahrul saying
Although adventurers often find themselves at the wrong end of a Goblin Blade, there are a few goblins that have answered Queen Rosomon's call for aid. Enticed by the promise of great riches, these mercenaries will stop at nothing to fill their pockets with gold.
Take up arms against your kin and claim your royal reward with this free Goblin Cosmetic Pack, available to download now!
The Goblin Cosmetic Pack was released in October 2021.
Dynasty cosmetic pack
[
]
"…but, just as we were about to leave, the faint glow from the moon danced across the tomb entrance."

—Excerpt from Famed Explorer Joseph Billingsworth's Memoirs
Far from the bustling Lunar New Year festivities held in Parid, an incredible discovery was made: an ancient tomb of a long-forgotten hero!
This righteous hero, who was fiercely loyal to Fahrul, was said to have worn legendary armor that could hold control over evil spirits and strike fear into those not pure-of-heart.
With the re-discovered armor waiting for a new owner, will you take up the mantle and bring peace to Farhul once more? The FREE Dynasty Cosmetic Pack is available to download now!
Good fortunes, Adventurers!
The Dynasty Cosmetic Pack was released in January 2022.
IronOak Games

[

]
Description
[
]

IronOak Games is an independent video game developer based in Vancouver, BC. Founded by industry veterans with multiple shipped titles under their belts, their goal is to revive classic gameplay mechanics with modern designs and features. Their first PC title, For The King, has over 500,000 players to date.
History of IronOak Games
[
]
IronOak Games was founded in early January 2015 by 3 industry veterans with the purpose of creating their first game, For The King. Their game designer, Colby Young, had previously been working on a personal boardgame called the Black Gate, which was heavily influenced by the Ultima series. Black Gate was unique in that it blended traditional table top mechanics with digital RPG mechanics, which quickly caught the attention of a loyal online following. After numerous years and countless playthroughs, Colby decided to bring the board game to life in the digital realm. Gordon Moran and David Lam quickly joined the team at which point IronOak Games was formed, and For The King was born.