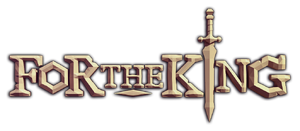 The comprehensive
For The King
wiki reference written and maintained by the players!
Weave your own unique tales in an epic single or multiplayer RPG adventure that spans across the realms. Trek across perilous badlands, trudge through poisonous swamps, brave the high seas, and explore dark and mystical forests. The land is in chaos and the odds are stacked against you. Answer the call and help bring peace back to Fahrul!
The King is dead, murdered by an unknown assailant. Now the once peaceful kingdom of Fahrul is in peril. With nowhere left to turn and stretched beyond her means, the queen has put out a desperate plea to the citizens of the land to rise up and help stem the tide of impending doom. Set off with your make-shift party, either single player or online co-op, on an epic quest to find what answers you can. Brave the relentless elements, battle creatures both monstrous and evil, sail across the great seas, and delve deep into the many caves and dungeons that dot the land. In For The King, every turn matters.
Fight and die as a party in brutal and intense turn-based combat using a unique slot system for attacks or special skills and abilities. Find and gather herbs for your trusty pipe to heal your wounds and cure your ailments. Amass ancient artifacts and treasure that will help you on your adventures. Set up a safe camp for the evening or brave the horrors that nightfall brings. Collect Lore and use it to strategically and permanently unlock the mysteries and mechanics of the places you find for use in future adventures. How you decide to save the land is entirely up to you. For the King!