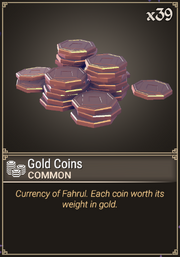 Description
[
]
Gold is the currency of Fahrul and used to purchase anything within the realm.
Gold can be collected from defeating creatures, completing a quest, from one of the Encounters, or from a chest.
The amounts of gold collected from each of these can be increased though items that provide the + Gold Multiplier attribute, or from the +20% Gold Multiplier from Sanctums of Wealth.
Gold can be stolen using the Steal special attack, or as a random effect from stepping on Chaotic Land.
Trivia
[
]
If gold is stolen from you, and you have a + Gold Multiplier, defeating the enemy and collecting the gold will provide you with more gold than you initially started with.
Shared gold is not increased by + Gold Multiplier.
Guides
[
]