WARNING! This article contains spoilers.

The Hobo is a character in For The King which was added with Patch no. 1.1.17. Unlike the other Characters available through The Lore Store, it first needs to be found in a For The King game. The Hobo will appear as a purple question mark on the Map.
Unlocking the Hobo
[
]
Once the player approaches the purple question mark, he will encounter a Friend In Need. You will be asked to spare a varying amount of coins. Once unlocked, the player can buy the Hobo in The Lore Store for 15 Lore to use it as a character in future games
The Hobo has all of its base-stats set to 70. He has no special abilities and starts with 5 gold and a Sharpened Stick as his starting-weapon.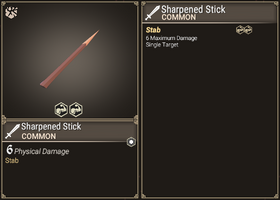 The Sharpened Stick deals 6 physical damage and checks the strength stat twice.
The Hobo starts the game with a max Focus Points of 2, compared to the other classes max Focus Points of 3. The only other class to have a different starting Focus Points is the Scholar, whose max Focus Points at game start is 4.
Appearance
[
]
The Hobo only wears underwear, shin sleeves, and arm sleeves. The female version also sports a chest covering and a choker.
Trivia
[
]
The Hobo's "price" will increase with the player's progress.
The purple question mark may disappear, just like other encounters do in For The King.
Characters

•
•
•
•
•
•
•
•

•

•
•

•