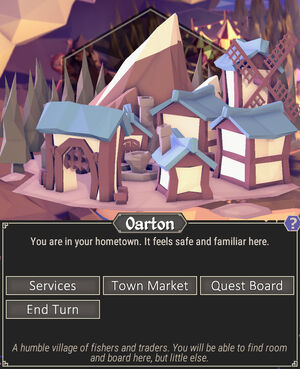 Oarton is one of the Towns in For The King.
Description
[
]
Oarton is the starting Town for your adventure in Fahrul.
Services
[
]
Every town will offer the same basic services, but for variable price depending on the level of the region the town is found in.
Act I
[
]
| Service | Cost |
| --- | --- |
| Inn | 5 gold |
| Meditation | 7 gold |
| Healer | 9 gold |
| Blessing | 9 gold |
| Pipe Smith | 18 gold |
Act II
[
]
Act III
[
]
Act IV
[
]
Town Market
[
]
15 Potential Town Market items taken from this list. Of the 15, 3 are always *guaranteed, and an additional 3 randomly taken from among Herbs, Potions, Scrolls and Equipment. The remaining 9 will be taken from Weapons and Armor
Act I
[
]
Act II
[
]
Act III
[
]
Act IV
[
]
Quest Board
[
]
Quest Type
Quest Text
Quest Objectives
Reward
Delivery
Deliver this pouch to my mother-in-law in

Dryad's Lantern

.Be very careful, it's rather fragile. Don't look inside if you know what's good for you. And never mind the squeaks.
Deliver the Sealed Letter the

Dryad's Lantern

in

The Burning Forest

.
Faded Pearls
Bounty
I nursed a wounded Beastman back to health, but it ate my cat and fled into the wilds outside. I must have vengeance for my poor old Floofers.
Kill the Beastman in The Guardian Forest
24 Gold
Exploration
Land survey required. Please travel to

Sanctum of Purity

to survey the area. Reward given upon arrival.
Go to

Sanctum of Purity

in

The Burning Forest

.
30 Gold
Media
[
]