Scourges lie dormant in their Haunts, hidden random locations which can be uncovered by exploration. Scourges can become active. Once awake, they have a variety of nasty effects on the world. Scourge can be defeated when either dormant or awake. If a dormant Scourge is defeated, they are removed from the timeline. If an awake Scourge is defeated, its effect on the world disappears.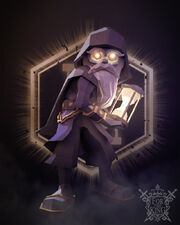 Defeating a Scourge results in experience. Sometimes lore and unique loot can drop.
Mechanics and Strategies
[
]
Scourges are more difficult than standard creatures, due to increased health and attack. They are typically flanked by minions, however several will spawn alone (such as Fergus the Mad and The Old One). Ensure you have plenty of health and focus prior to entering a Haunt.
Scourges increase by one level at the beginning of each day, for as long as they are dormant. The max level for a Scourge Haunt is 10, and the minimum is 2. It's encouraged to defeat a Scourge before the day ends, to reduce difficulty.
Scourges will always have some type of resistance, be it magical or physical. Knowing which resistance can help with weapon selection and kill sequence. Weapons and Skills with Pierce can negate these resistances.
Cult Devices can remove a scourge off the timeline. This can be useful if a scourge is going to become active soon. The "-1 Scourge" option will not remove a scourge's active effect. The active effect can be located on the right-side of the interface. An active Scourge can also be identified on the map by a swirling purple cloud around its Haunt.
List of Scourges
[
]