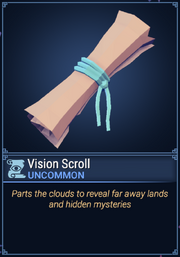 Vision Scroll is one of the Scrolls in For The King.
Description
[
]
Vision Scroll is an uncommon Scroll which unveils a clouded area on the World map.
Acquired
[
]
Occasionally available for purchase in all Towns with a limited stock of one or two (1-2) units.
Can be obtained from Treasure Chests.
Rare drop from mob units, typically high-ranking members of a Dungeon.
Trivia
[
]